RUBBER LINING
JPI leader in corrosion and abrasion resistant rubber linings for more than three decades., JPI has been supplying the entire range of rubber and other elastomer linings for both standard and highly specialized process equipment.
JPI has, over the years, successfully executed numerous challenging projects for various process industries. A review of JPI's list of prestigious clients, the nature and size of jobs undertaken both in India and abroad - a number of which have been repeat orders - is testimony to the confidence reposed in JPI by clients.
Excellence in quality is one such thing, on which we have never compromised under any condition. We have employed a team of quality auditors, who are checking the quality of our products throughout the production process. They work round the clock and make use of the available resources to guarantee the absolute finesses of our Rubber Lined Equipment (Cold & Hot Vulcanizing Systems).
Every stage of production process passes through stringent quality checks in our well equipped quality control unit. Our range of products is tested on the basis of the following parameters:
Resistance to temperature
Resistance to chemicals
Strength
Resistance to acids/ alkaliDimensional accuracy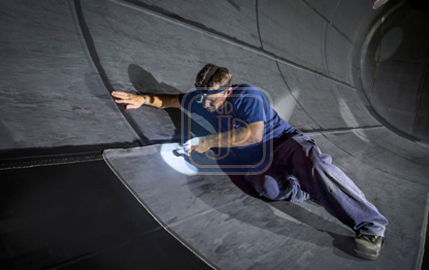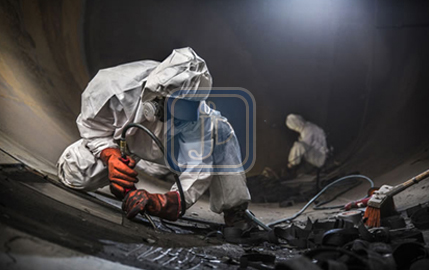 RUBBER COMPOUNDS FOR
DIFFERENT APPLICATIONS:-
| | | |
| --- | --- | --- |
| TYPE | SHORE HARDNESS RANGE | CHARACTERISTICS |
| Soft Natural Rubber | 30oA - 70oA | Suitable upto 70oC. Lower hardness compounds for abrasive conditions and higher hardness compounds for chemical resistance |
| Semi-Ebonite Natural Rubber | 60oD - 70oD | Suitable upto 100oC.Resistant to chemicals except chlorine and chlorine-based compounds |
| Black Semi-Ebonite Natural Rubber | 65oD - 75oD | Suitable for fluorine, caustic Soda ( Low Ca, Mg Si) & Membrane cell Industry upto 100oC |
| Ebonite Natural Rubber | 75oD - 85oD | Suitable upto 100oC. Highly resistant to chemical attack including chlorine and chlorine - based compounds |
| Neoprene | 60oA - 70oA | Suitable upto 110oC. Has good abrasion resistance and chemical resistance even in presence of mineral oil |
| Butyl / Bromo Butyl | 50oA - 60oA | Resistant to most chemicals of temperature upto 100oC. Has excellent water - proofing and weathering characteristics. |
| Hypalon | 55oA - 65oA | Has excellent resistance against sulphuric acid, chromic acid and other oxidizing agents even upto 120oC |
| Nitrile Ebonite | 70oD - 75oD | Suitable upto 110oC. Resistant to mineral oils and many solvents |
| Soft/Hard/Soft (Triplex type-triple layer) | 55oA - 69oA | Suitable for combined resistance to chemical, abrasion and mechanical shocks upto 90oC |
| EPDM | 70oA - 80oA | Suitable upto 100oC. Resistant to most chemicals. Used extensively for gaskets. Has excellent water proofing and weathering characteristics |
| Viton (Moulding Compound) | 70oA - 80oA | Suitable upto 180oC. Resistant to highly corrosive Chemicals and oils. |
OUR RUBBER LINING STANDARD:-
| | |
| --- | --- |
| Description | Standard |
| Lining of equipment with Polymeric Materials for the process industries Part 5. Specification for Lining with Rubber. | BS 6374 :Part 5 : 1985 |
| Test method for Rubber properties in tension | ANSI / ASTM D 412-80 |
| Code of practice for Lining of Vessels and equipment for Chemical Process. | IS 4682 (Part 1) 1968 & Amendment No.3 Nov. 1982 |
| Part 1 Rubber lining. | ASTM Standards Part 37, 38 (1980) |
| Test methods for Rubber Property - Adhesion to Rigid Substrata. | ASTM D 429-81 (Re-approved 1988) |
FEATURES OF RUBBER LINNIG
High impact resistance
Chemical resistance
Corrosion resistance
Temperature Resistance
Increase Life of Equipments
Easy to replace
Strength
Abrasive resistance